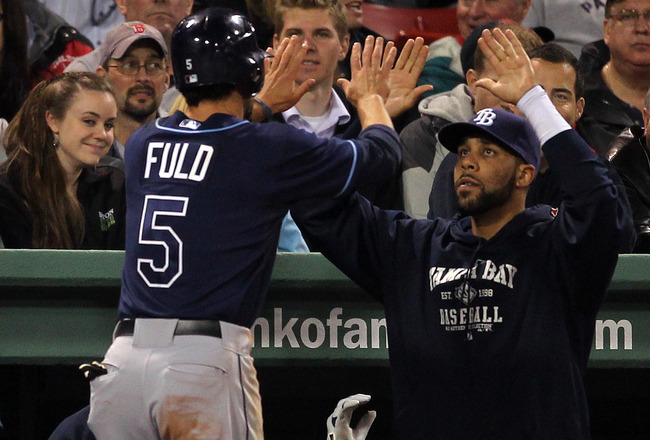 If you play fantasy baseball, no doubt you have heard the old stock market adage "buy low, sell high."  Ever wonder what that really means to
you
though?Buying low doesn't just mean picking up an ailing star because he should bounce back (or so you hope anyway).  Nor does selling high simply mean dumping some out-of-the-left-field player
whose stats shocked even you
just because he is bound to come back to earth.Rather,
to buy low is to get what you want at the lowest cost
, and
to sell high is to get the maximum price possible on something
.  That may sound obvious, but putting this into practice can prove much more difficult.Let me give an example of a true sell high situation.  At the end of the 2010 season,
Carlos Gonzalez
's numbers in a standard 5×5 scoring were:
111-34-117-26- .336
.  I am going to go out on a limb and say he will NEVER repeat that season . . . EVER.
In most standard leagues you just need to fill generic outfield spots instead of left field, center field, and right field individually (the way God intended it to be).  As a result, CarGo's position flexibility offers you no added value in this situation, so if someone would have been willing to trade you another top 15 ranked player going into the 2011 season, I would have taken it.  In fact, I literally did take this trade— in 2 leagues where I needed to fill individual outfield spots; I traded CarGo for players that made more sense given the league setup.  In one league, I got a 4th round draft pick AND Nelson Cruz; in another, I traded CarGo straight up for Prince Fielder.  There is no way I could get that value from CarGo anytime after the 2011 season started.  I sold high and it paid off.
Now sometimes people are in such a rush to sell high they don't adequately assess what they are giving up or getting in return.  As we have discussed, most leagues have different settings as far as scoring, style of play, keepers, etc.  You always need to consider all of these circumstances when trading.  Consider the following:
I am a huge advocate of leagues fielding left field, center field, and right field positions rather than just the umbrella spot for outfielders.  In this scenario, Cargo does have a ton of value because he can play any of the 3 outfield positions that you need to fill.  As a result, selling high in a league where you need CarGo at left field is trickier because you won't easily replace his stats in that position.  My curbed expectations of him going into the 2011 season were 95-25-95-25-.305.  His actual stats: 92-26-92-20-.295 (it's what I do).  If your league plays just outfield spots, then that line is not so hard to pick up somewhere else.  Alex Gordon, Andrew McCutchen, Shane Victorino, Melky Cabrera or Ben Zobrist would have gotten you pretty close and you can balance out the rest depending on who you get in the trade (in a future post I'll share a little of how I balance stats in trades).
Buying low can be just as tricky as selling high, and as I have and will say over and over again: value is very subjective in fantasy sports.
Last year I traded Randy Wolf for Andrew Bailey while Bailey was on the disabled list.  This trade worked out well and also represents somewhat of a sell high on Randy Wolf.  Guys on the DL are prime buy low candidates, though if your league doesn't have a "DL spot," then it may not be a great practice for you.
The question I always ask myself when buying low is "how well do I think the player will do for the rest of the season?"  You need to keep this question in mind because giving up a guy who is helping moderately across the board for a guy who could win you a whole category if he bounces back is a solid move.
Although anyone who "bought low" on Carl Crawford will tell you that it does not always pan out. How about you?  Do you have any sell high, buy low stories to share?